SEO Services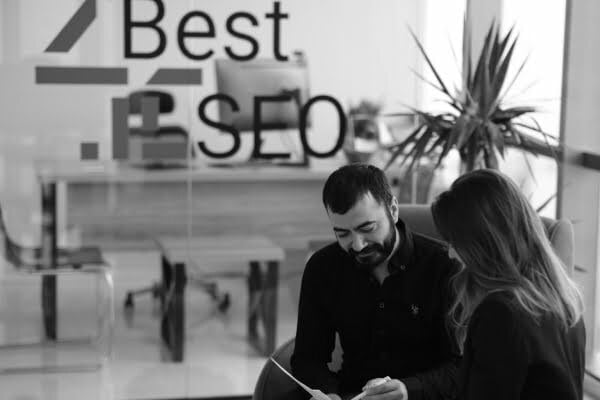 If you want to increase organic search traffic to your website and rank higher on Google UK or target a specifically England, Scotland, Wales or Northern Ireland, our team of SEO experts will help you achieve this goal. Before we take a look at what our SEO services are, let us explain to you what SEO is and why it is important for your business.
What is SEO?
SEO is short for Search Engine Optimization. It is a form of Marketing that helps enhance a website or an online property's appearance in search engine results and improve its performance. SEO marketing is normally used for targeted keywords and locations. If all applied correctly, SEO analyzer tools will ultimately attract more customers due to more traffic and thus, more profits.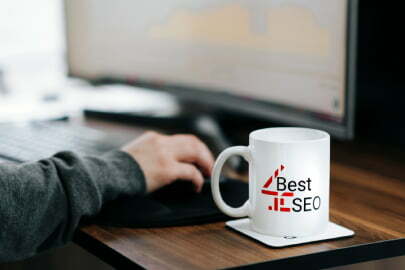 The Benefits of Search Engine Optimization
Higher in the search results
Better findability
More organic traffic (non-paid) to your website
More User-friendly website to your visitors
More visitors, leads and conversions
More relevant website to your target audience
The Importance of SEO
SEO should be an indispensable part of your marketing strategies. With SEO, you attract organic search traffic to your website. Organic search is done purely algorithmically and not affected by advertisement. Therefore, you get search traffic when your website offers solutions or answers to their specific search query. As you rank higher and get indexed properly according to Google bots, your website will be among the first results appearing on the search and thus receiving more targeted traffic from people interested in the type of product or service you are providing.
For every website or website, any traffic coming through organic search is undoubtedly the most profitable. If you get 50% of your search traffic through SEO and the other 50% through paid-advertisement, then you will have conquered the most prominent demands of digital exposure and growth.
Our 4 Core SEO Elements
Based on our extensive research and experience on multiple websites, we found that SEO has 4 core elements.
Without quality, clear, and informative content that serves the user's intent whilst still including keywords to give signals to Search Engines, your website will not be able to compete and your bounce rate will increase.
Technical SEO is vital since it ensures that your website is navigable and free of any technical difficulties that prohibit search engines from understanding and ranking it.
Domain Authority will not increase if you do not have backlinks from other reputable websites. Backlinks are the building blocks of your website as they establish a sense of trust and security between you and your target audience.
Internal links are important because they help search engines figure out what your website is about and rank it better. By giving crawlers links to follow and anchor text that tells them what the link is about, you can show search engines which pages on your site are important and what they are about.
The Operation of Search Engines
Search engines have complex algorithms to analyze assess and rank websites. You might wonder why site X was ranked higher than site Y. Here's how the operation of search engines works.
Crawling
Crawling occurs when search engines request webpages from websites' servers. Imagine Google visiting a webpage just like you do and it takes notes of all the links and everything else inside of it. These data gathering programs are called "bots" or "crawlers" or "spiders". Google's crawler is called Googlebot whereas Bing's is called Bingbot.
Rendering
The search engine will "render" a page after it has crawled it. This means using the HTML, JavaScript, and cascading stylesheet (CSS) information to make the page look the way desktop and/or mobile users want it to look.
This is important so that the search engine can understand how the page's content fits in with the rest of the page. Processing the JavaScript helps make sure they have all the content that a human user would see when visiting the page.
Indexing
After a page has been crawled and rendered, search engines do more work on it to decide if it should be added to the index and to figure out what it is about. The pages and the words and what they are talking about is listed and accordingly the search engine will list your page to a particular search query. This is where keywords play a role in SEO.
Ranking
After crawling, rendering and indexing the website's pages, search engines rank it based on several factors such as user Experience, Site Speed & Performance, Mobile Friendliness, Backlinks, Optimized Content, Page Title & Meta Description, Website Security & Accessibility, Internal Link Building & Anchor Texts, Domain Age, URL, & Authority
Our SEO Services in the UK
Content Strategy & Optimization

After acquiring all the input, it is time to start creating content on your website. The content will be informative and helpful for your target customers. It will include visual aids (Images, Videos, and/or Audio), it will also include a guide as well and an FAQ section that answers all their potential inquiries. The more informative content you have, the higher you rank. Google bots care that you attend to the customers' questions and problems instead of random usage of keywords.
Link-Building

Link building is the most powerful SEO strategy. Your website should have an external link, that is, a link to another website. This website must be reputable and helpful and shall never be a competitor. The other must-have is internal link structure. Consider your website a family tree, each member related to one another and has a certain relationship. By internal linking, you use the suitable anchor words to link to another page within your website. This helps the search engine to understand the difference between each page and their importance.
Local SEO

It is a search engine optimization strategy that helps your business be visible in Local UK searches on Google. This is especially helpful for companies who have a physical location inside the United Kingdom, and they want to be findable to customers in it.
You should apply local SEO because local customers will visit your company based on online reviews, Google maps (nearby places), if you are in the business directory and of course, if you optimize your website to be addressed towards those people.
International SEO

If you aim to be a global company and want to target customers in each country, then you should apply international SEO techniques.
International SEO means making your website more global and not limited to the United Kingdom like adding multiple languages, having more than one URL, each for a different country like www.example.kw (targets Kuwait) and www.example.tr (targets Turkey) etc.
This way your are managing multiple websites in one and each of your websites is targeted at a specific country.
On-Page SEO

The first aspect of search engine optimization (SEO) to be addressed is on-page optimization. It places an emphasis on the contents and components of your website that are located within the page itself.
The following is a checklist of on-page SEO components, and once we are finished, we will ensure that each one has been checked off:
Page Speed, Content Quality, Title Tags, Meta Descriptions, Mobile Friendliness, Internal Linking, External Linking, Image Optimization, Site Structure, Navigation, HTML Headers, and Keywords are the Core Web Vitals that you need to focus on.
Off-Page SEO

In contrast to on-page SEO, off-page SEO focuses on elements that exist outside of your website and are completely beyond your ability to influence.
The creation of backlinks, the promotion of sponsored searches, and increased engagement in social media activities are all effective off-page SEO methods. There are still a great many more.
The objective of off-page SEO is to engage in activities that take place outside of your website in order to demonstrate to Google and other search engines that your company can be trusted and that your website is an authoritative resource.
Technical SEO

The technical aspects of your website are the focus of technical search engine optimization (SEO), which is exactly what its name implies.
This includes ensuring that your website conforms to the rules provided by search engines in order for it to be crawled and indexed without any complications.
If the fundamental aspects of your website are lacking, you will not have success in the search engine results pages (SERPs).
Here are the most important aspects of the website:
LCP: Largest Contentful Paint (Loading)
FID: First Input Delay (Interactivity)
CLS: Cumulative Layout Shift (Visual Stability)
Arabic SEO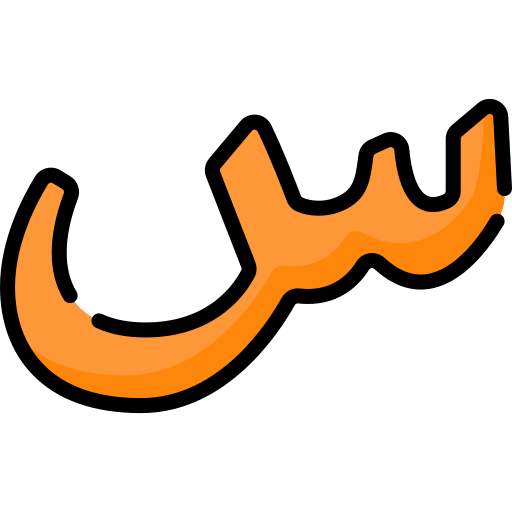 If you have a UK-based business that targets the Middle East and you want to reach your customers in their own language, you need to use Arabic SEO.
We help our customers who own websites or businesses, whether they are just starting out or have been around for a while, use the best SEO techniques to rank higher on Google in Arabic.
Arabic SEO is just using on-site SEO techniques on websites in Arabic.
It's a bit different from normal SEO practices because it often needs unusual ones.
SEO in Arabic is different from SEO in English.
By using Arabic SEO, Google's search engine versions in Arab countries will be able to find your Arabic website.
Once your website is set up for Arab countries and the people you want to reach in those countries, it will slowly rise in Google's rankings in those countries.
Arabic SEO Difference
Our team also handles SEO for Arabic Websites targeted at Middle Eastern countries. Arabic SEO is much different and trickier than in other languages.
The problem with Arabic websites is that many of them have spammy or low quality content. It is also a language that Google bots still struggle to completely comprehend its context. With Arabic sites, traditional SEO methods do not always work, so a "Trial & Error" technique is used with constant auditing.
For this reason, a good deal of SEO service provider companies resort to Black Hat SEO techniques including random keyword stuffing, linking to irrelevant sources, cloaking, creating duplicate content and son on. Our SEO Company team works solely with White Hat techniques, as such techniques might get severe punishment. Anyway, it is easier to rank up an Arabic Website than an English one.
Some SEO Tools We Use
SEO Marketing is not about guessing. There is a plethora of online tools that guide you through the process and give you analytical data on which you base your strategies on.
Let's show you some (not all) of the most effective SEO tools that we use in order to apply techniques suitable for our client's website.
Ahrefs: Ahrefs is one of the best SEO tools because it gives the user analysis and a full picture of all the problems and benefits of writing content, starting with searching for the right keywords. It doesn't stop there. Ahrefs not only gives you a complete analysis and overview of your site, but it also gives you a lot of information and analytical graphs about your competitors' sites. This will help you figure out what strategies they are using to get higher search engine rankings. Ahrefs shows you all of the backlinks that your competitors' websites have earned and gives you a very professional review of the engagement rate on each site.
Screaming Frog SEO Spider: It is a website crawler that helps you enhance onsite SEO by extracting data and inspecting for common SEO concerns. This is accomplished through the use of a website. The Screaming Frog SEO Spider is a website crawler that helps you improve onsite SEO, by extracting data & auditing for common SEO issues. With this software we can find broken links, audit redirects, analyze page titles and meta description, discover any duplicate content, Collect any data from the HTML of a web page using CSS Path, XPath or regex, review robots.txt, Generate XML Sitemaps, Crawl JavaScript Websites, Visualize Site Architecture and it can be integrated with Google Search Console and Google Analytics.
Google Search Console: Google Search Console is the best tool to use to target the right keywords and give the content writer a clear plan. Google Search Console also stands out because it gives you a detailed statistical analysis of how many clicks and impressions your site gets every day. You can also fix SEO errors or mistakes on some pages or posts of the site you are trying to optimize with this tool.
Google Keyword Planner: This tool gives us detailed statistics on every search query made on Google. It shows the search volume, level of competition, and the bidding price for using the keyword in advertisement. It also gives keyword suggestions similar to the query we entered.
Google Analytics: It is a web tool that keeps track of how well your website is doing and looks at it in depth. It also gives you more than one way to track your marketing goals using key metrics. There are different levels of complexity in Google Analytics (GA). Google Analytics works well with other Google services and is easy to connect to. This gives you an edge in marketing because you can track performance at the same time.
Answer The Public: This SEO program is an excellent tool for finding keywords to use. It does this by answering the questions "What," "When," "Where," "Who," "How," "Why," "Are," "Can," and "Which" to produce a list of keywords related to the primary topic you looked for. The most useful function of this SEO software is the ability to compare the search volumes of two keywords that are conceptually similar, such as "iPhone" and "Android."
Serp Robot: This tool helps track the progress and position of each of your pages for all keywords. It also allows us to check the position of the competition for each of these keywords as well. We can even track the change of the positions of the keywords in each and every country.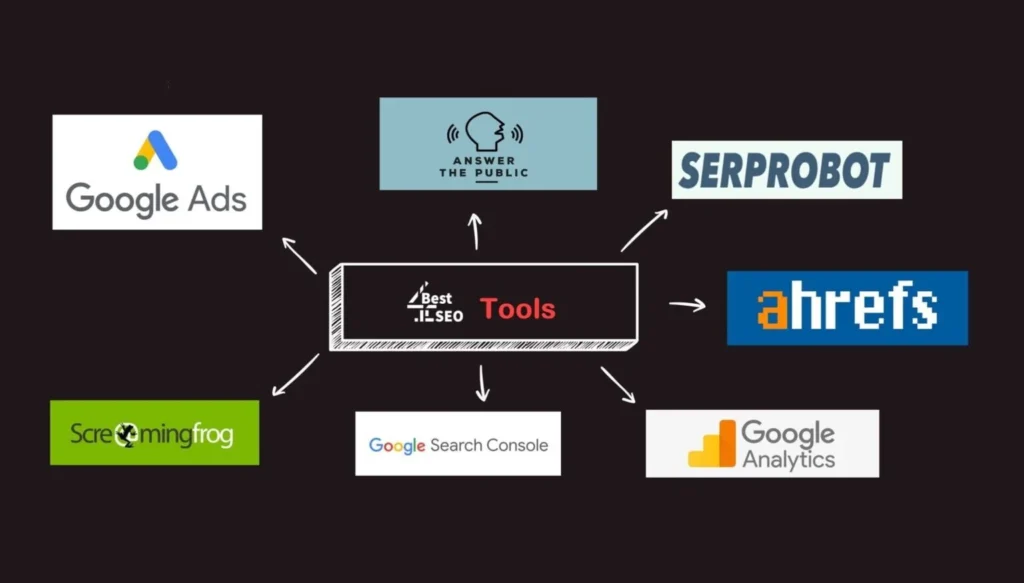 Search Engine Optimization Services with Best 4 SEO
With Best 4 SEO, we guarantee you that we will be 100% dedicated to apply all necessary SEO practices to your website so that we get you more organic traffic which is substantial for sustainable growth, both in the United Kingdom and abroad.
We also promise you absolute transparency in everything we do and you will be informed of all the process and monitor the results.
But, you must keep in mind that SEO is not magic, it does not happen over night.
You know what they say "Slow and Steady Wins the Race". That's what SEO is all about.
We are here to help, we want to make your website more appealing to your readers and to the jury (Google & his friends).
Surely, search engine optimization alone does not get you 100% of the traffic.
We strive to get you 50% organic traffic. If you wish, you could invest in our advertising services and place ads on either search engines or social media channels for more paid clicks and more brand awareness.
Let's meet and see how we can combine these two techniques together, or not, it is your call.
Why Choose Our Services?
Best4SEO employs highly skilled SEO specialists and copywriters.
Best4SEO gives you long-term results and a higher ranking.
We are transparent in all our services that we provide

Best4SEO believes that the success of its clients is its own success.

We are a SEO agency that provides quick customer support to its clients in multiple languages.
Our agency is very affordable and meets everyone's budget, whether you cant to pay 10 GBP or 10,000 GBP.
Targeted Local SEO for England, Scotland, Wales and Northern Ireland.
SEO Services FAQ
What are SEO Services?
SEO services are used to improve the rank of a website on search engines and get more organic traffic.
Why are SEO services important?
With SEO services, you can help your potential customers by answering their questions and solving their problems. Your website will be exactly what they are looking for, and thus you will get more organic search traffic, which ultimately leads to more customers and more revenue.
Are SEO services good for Small businesses?
By optimizing your small business's website online, SEO services give you more chance of exposure than you ever will on the ground.
How long does SEO take to show results?
SEO is a set of ongoing practices that give you sustainable growth over time. It is not magic and does not happen overnight. The key is to do ethical SEO practices to see long-term results.
Contact Us Now To Get A Quote & Free SEO Diagnosis Of Your Website.